Health Metrics
Source: Institute for Health Metrics and Evaluation (IHME), 2016 data retrieved 2018. Mortality findings represent the rate per 100,000 population
| | | | |
| --- | --- | --- | --- |
| | Eau Claire County | Wisconsin | National |
| Life Expectancy | | | |
| Female | 82.4 | 81.9 | 81.5 |
| Male | 78.6 | 77.7 | 76.7 |
| | | | |
| Ischemic Heart Disease Mortality | | | |
| Female | 89.8 | 104.3 | 124.9 |
| Male | 159.1 | 174.5 | 191.5 |
| | | | |
| Cerebrovascular Disease (Stroke) Mortality | | | |
| Female | 45.3 | 45.9 | 47.4 |
| Male | 46.0 | 47.7 | 48.8 |
| | | | |
| Transport Injuries Mortality | | | |
| Female | 6.1 | 7.8 | 8.1 |
| Male | 14.0 | 17.6 | 19.8 |
| | | | |
| Mental and Substance Use Mortality | | | |
| Female | 9.8 | 10.4 | 11.8 |
| Male | 15.5 | 16.8 | 22.2 |
| | | | |
| Obesity Rate | | | |
| Female | 34.2 | 36 | 36.1 |
| Male | 34.5 | 35.2 | 33.8 |
Access to Nationally Recognized Health Care

in Eau Claire is a 304-bed general/intensive care facility, Mayo Clinic Health System is a regional center for cardiology and cardiac surgery, neurosurgery and orthopedics; is verified as a Level II Trauma Center and a Primary Stroke Center; and is served by the Mayo One emergency medical helicopter. Mayo Clinic Health System is a multi-specialty center with a 247-member physician staff providing primary, surgical and specialty care. It is based in Eau Claire, and its regional locations include Mayo Clinic Health System Chippewa Valley, Northland, and Oakridge.
an affiliate of Hospital Sisters Health System, Sacred Heart Hospital is a full service progressive and rapidly growing hospital. The medical staff consists of approximately 200 independent, Marshfield Clinic and OakLeaf Medical Network physicians with privileges to practice there. A 344-bed facility, Sacred Heart Hospital provides exceptional patient experiences in the following areas: Neurosurgery, Cardiology, Critical care/Trauma, Cancer Care, Surgery, Orthopedics, Rehabilitation, and Women's Health.


has 730 physicians representing 84 medical specialties and subspecialties, and 6,000 employees system-wide, and is a private group medical practice with more than 40 locations in 31 western, central and northern Wisconsin communities. Since Marshfield Clinic is one of the nation's top medical and clinical research organizations, patients have access to clinical research trials and other research programs close to home. Marshfield Clinic physicians at 12 locations in the Chippewa Valley offer care in almost 40 specialty areas, including the Regional Cancer Center in Eau Claire.
is the newest hospital in Eau Claire. Formerly an outpatient surgery center, the OakLeaf provides state-of-the-art surgical capability with high quality, experienced staff. The hospital accommodates most inpatient and outpatient elective surgical procedures. The surgical hospital features 10 deluxe private hospital suites in an environment designed to reflect a residential atmosphere featuring an on-site chef and a professional medical staff.
---

The Eau Claire Area has four healthcare facilities that employ approximately 400 physicians
---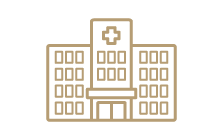 All local hospitals have been recognized for their services by either Healthgrades.com or Becker's Hospital Review for at least two consecutive years.