COVID-19 Emergency and Economic RecoveryAdd to Report
Resources to help navigate services during the
COVID-19 Emergency
We want to assist local businesses to come out strong at the end of the public health emergency.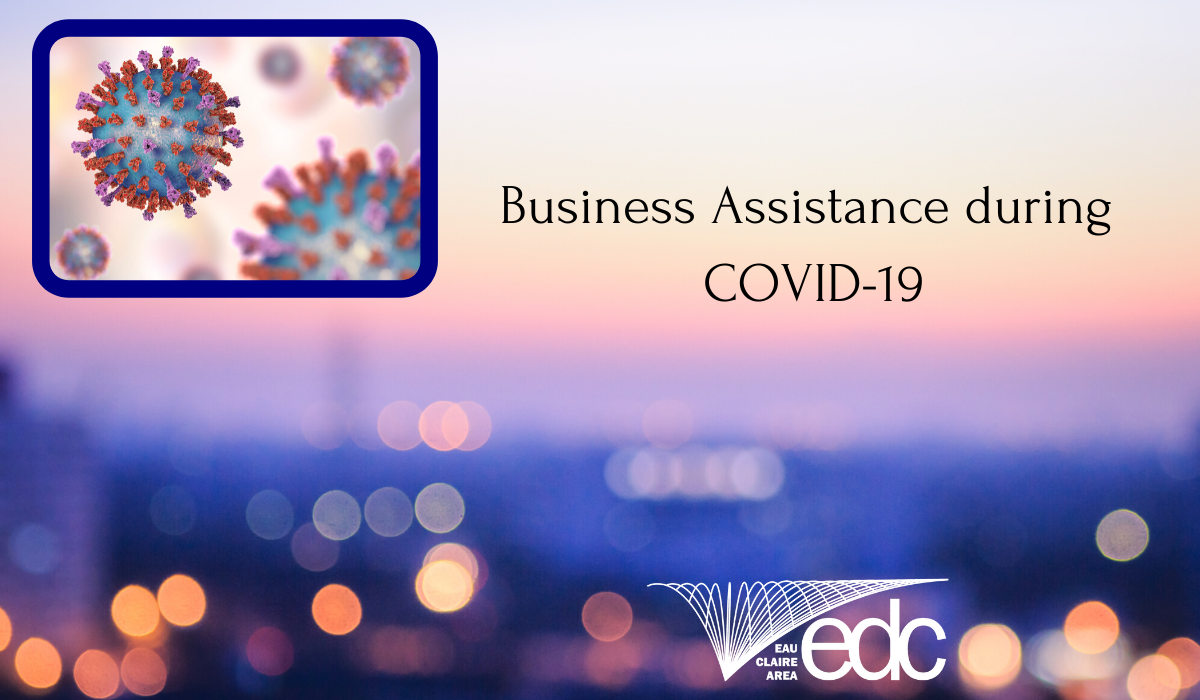 Local Resources
Eau Claire County COVID-19 Order
The Eau Claire City-County Health Department has issued a local order in respect to guidelines for stopping the spread of COVID-19. Local order takes over where the WI Safer at Home order has expired. New guidelines published by the Health Department limits indoor gatherings to 100 people, and outdoor gatherings to 250 people. Six feet of social distancing within these gatherings should be practiced. Other updates were made in regards to food/beverage self-service, occupancy within indoor business settings and service industry waiting rooms. Read the updated order below for more details.
COVID-19 Information for Local Businesses
The Eau Claire City-County Health Department has published several check lists as resource strategies to prevent the spread of disease, while businesses are open to employees & the public. Keep these facts and "best practices" available while reopening for curbside service or partial reopening in the future.
click here to learn more
Regional Loans from the Regional Business Fund
The Regional Business Fund, Inc. offers low-interest loan funds to businesses that expand within the region; diversify the economy, add new technology, revitalize buildings in the region's downtown, create or retain quality jobs, and leverage private capital investments in the region. Check with this local, non-profit lender for a loan product that may fit your current business needs.
A new offering from the RBF; EDA CARES Act Recovery Assistance Revolving Loan Fund (RLF) is designed to assist small businesses most impacted by the COVID-19 pandemic by assisting with long-term, fixed rate, low-interest financing.
click here to learn more
State Resources
Governor Evers' Emergency Order #3
For information related to Governor Evers' Emergency Order #3, which limits indoor public gatherings to 25% capacity from Oct. 8 through Nov. 6, 2020, follow the button below.
"We're All In" Grant - Phase 2
Governor Evers and WEDC have announced the release of an additional $50 million in CARES Act funds for a second round of "We're All In" grants for Wisconsin small businesses. The second phase of the program will provide $5,000 grants to 10,000 businesses to help with pandemic-related costs, including health and safety improvements, wages and salaries, rent, mortgages and inventory. Priority will be given to small businesses who did not receive funds in Phase 1, ethnic minority owned businesses and business sectors most impacted by the pandemic.
Grants will be distributed by the WI Department of Revenue.

• A business may apply for the "We're All In" Small Business Grant if:
o The business started operating prior to January 1, 2020 and operated in 2020
o The business is Wisconsin-based and for-profit;
o The business employs 50 or fewer full-time equivalent (FTE) employees, including the owner;
o The business has more than $0 but less than $1 million in annual revenues.
o For 2019, the business must have had 75% of their labor costs and assets in Wisconsin.
• Businesses will not be eligible for the grants if:
o The business is part of a national chain, unless it is a third-party franchise;
o The business is a governmental unit or primarily engaged in any of the following North American Industry Classification System (NAICS) codes beginning with:
 111XXX - Crop Production
 112XXX - Animal Production or Aquaculture
 5311XX - Lessors of Real Estate
 813XXX - Nonprofit Organizations

Grant applications will open October 19 and close November 2.

WEDC Focus Forward & Reopening "Best Practices"
Stay updated about important Wisconsin economic and business news, as well as new programs and resources for your community.

click here to read "best practices" for reopening
We're All In - Small Business Grant Program to Promote Safe Business Practices
If you are a micro small business, 20 FTE or less, you can qualify for this Grant. These are federal funds, as part of the CARES act, knowing that providing a safe workplace can cost money for supplies, this Grant is meant to cover those expenses. Grant amounts will be $2,500 awarded to 30,000 Wisconsin Small Businesses. Applications will be taken starting June 15, 2020 and closes end of the day, June 26, 2020. Businesses will need a letter of support from a economic development business, chamber of commerce or SBDC (the full list is in the link below). Please contact the Eau Claire Area EDC, and we'll write this letter of support, becca.coleman@eauclaire-wi.com. Grant application period is now closed. Follow the links below to find permissible uses of these funds, should you be awarded.
click here for We're All In FAQ
Wisconsin Main Street Tips for Businesses
Document designed by Wisconsin Economic Development Corporation to serve as a repository of ideas, tips and best practices compiled from local, state and national resources to allow our downtown (and other small businesses) to survive and thrive in light of current and rapidly changing circumstances.
click here to learn more
Did your business close (or cut hours) during this COVID-19 Emergency?
Apply for Unemployment Insurance Benefits with the State of Wisconsin.
If you are out of work, because of business closure, you will qualify for WI State Unemployment Insurance Benefits. The Work Search part of UI Benefits has been waived for persons out of work due to COVID-19 emergency. As of 4/15/20, the Wisconsin Legislature has lifted the one week waiting period for UI benefits. This will be a short term policy, but is retroactive to when the Safter-at-Home order began.
click here to learn more
CARES Act - Pandemic Unemployment Assistance & Pandemic Unemployment Compensation
As part of the CARES Act, is the Pandemic Unemployment Assistance and Pandemic Unemployment Compensation programs. These provisions are designed to allow individuals within the workforce to receive Unemployment Benefits, that are not traditionally eligible (gig workers & self-employed). There are other sectors of the workforce that have been displaced due to COVID-19, and would collect benefits with this program. There is also an extension of UI benefits for those who have exhausted their previous eligibility, PEUC. Follow link below to learn more and apply.
click here to learn more updated 4/21/20
CARES Act - "Paycheck Protection Program"
The Paycheck Protection Program provides small businesses with funds to pay up to 8 weeks of payroll costs including benefits. Funds can also be used to pay interest on mortgages, rent and utilities. Apply through local lenders starting on April 3 (for Small Businesses & Sole Proprietors) and April 10 (independent contractors & self-employed). Local lender list provided below. If you are lender that should be on this list, please contact becca.coleman@eauclaire-wi.com.

Application period is now closed. Look for loan forgiveness application details from your lender.
click here to learn more
CARES Act - Paycheck Protection Program Flexibility Act of 2020
Passed June 5, 2020 is the Paycheck Protection Program Flexibility Act of 2020. This amendment to the original PPP legislation adds some much-needed flexibility to the repayment, forgiveness and usage of funds.
Extended the covered period (for loan forgiveness) from 8 weeks to 24 weeks.
Changed the ratio of forgiven funds from 75/25% (payroll/other expenses) to 60/40% to allow for more "other" expenses to get forgiven, as many businesses were running at full employment during the emergency.
Extended loan term from 2 years to 5 years
A few other amendments (see link for full details)
click here for full details on PPP Flexibility Act of 202
SBA Express Diaster Bridge Loans
Express Bridge Loan Pilot Program allows small businesses, who currently have a business relationship with an SBA Express Lender, to access up to $25,000 with less paperwork. These loans can provide vital economic support to small businesses to help overcome the temporary loss of revenue they are experiencing and can be term loans or used to bridge the gap while applying for a direct SBA EDIL. If a small business has an urgent need for cash, while waiting for a decision and disbursement on SBA EDIL, they may qualify for SBA Express Disaster Bridge Loan.

Terms
Up to $25,000
Fast Turnaround
Will be repaid in full or in part by proceeds from the EIDL Loan
These Express Loans carry a higher interest rate, set by the lender
Must work directly with SBA Express Lender bank to apply
click here to learn more
SBA Economic Injury Diaster Loans
Applications for SBA EID Loans can be sent in now.
Follow links below:
Some tips to follow - SBA EID Loans are loans with flexible payment structures, 3.75% apr and can be held for up to 30 years.
SBA's advise for all wanting to apply - Apply Now, even if you are worried about eligibility or not sure if this is the right path for your business. Get the process started and get in line with the SBA Loan Officer to determine your best path at that time.
If loan amount is under $25K, then no collateral will be required, if loan is more then collateral is required but does not have to be free and clear.
There is no credit score minimum to be considered.
There is even a form (1368) for a startup business to be considered for loan dollars, based on projected revenue.
Need help with your application? The Small Business Development Center in Eau Claire is fielding questions and helping with navigating the application.

Guide to Applying for SBA Loans
Families First Coronavirus Response Act
Family First Coronavirus Response Act responds to COVID-19 by requiring paid sick leave, free coronavirus testing, expanding food assistance and unemployment benefits, and requiring employers to provide additional protections for health care workers. Below are details on some of the topics that are specifically designed to benefits displaced workers.

Emergency Paid Leave Act of 2020
Workers qualify for paid leave during the following conditions;
Individual has COVID-19
Individual is experiencing symptoms of COVID-19 and seeking medical diagnosis.
Individual is quarantined (including self-quarantine) at the instruction of a health care provider, employer, or government official to prevent the spread of COVID-19
Individual is caring for another person who is under quarantine
Individual is caring for a child or other individual who is unable to care for themselves due to closing of school or child care facility due to COVID-19 Benefits are distributed by the SSA. Eligible workers receive a benefit for a month (up to three), in which they must take 14 or more days of leave from their work due to qualifying COVID-19 reasons. Benefit Amount: Two-thirds of the worker's average monthly earnings (based on most recent year of wages or self-employment on record), up to $4000/mo. Days when the worker receives pay from their employer (wages or sick pay) do not count as leave days for purposes of this benefit.
Applications will be taken online, phone or mail. Payments will be made electronically.
Paid Sick Days for Public Health Emergencies & Personal and Family Care Act
This Act requires all employers of full-time employees to provide 14 days of additional paid sick leave, available at the beginning of a public health emergency. Part-time employees sick leave benefit will reflect hours worked from the previous two weeks of employment.
Businesses (less than 500 employees) would be reimbursed for the cost of these 14 paid sick leave days, when utilized by employees. Will take effect immediately upon bill enactment.