About the Eau Claire Area EDCAdd to Report
Problem solving your business's challenges - that's what we're about.
A wide range of free services are provided for entrepreneurs and businesses that want to innovate, develop, expand or locate in the Eau Claire Area. Our mission triangle below highlights the three main focuses of our work. To learn more on how we advance the Eau Claire Area economy in these areas view our Action Plans.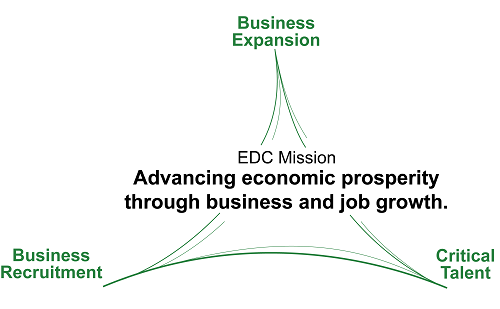 Our Mission:

Advancing economic prosperity through business and job growth.

Our Vision:

To be a premier center for regional economic development leadership.

Our Philosophy:

Create and market our unique resources and assets so that our area does not compete on commodities such as land and basic infrastructure.
EDC Quick Facts
Established in 1983,

Classified as a 501(c)(6) non-profit organization

Staffed of 3 Full-Time Positions and 2 Part-Time Positions
60 volunteers
48% Private/ 52% Public Funded